Marco van Elk, manager remote surveillance about the new control room:
'When it comes to security, Basic-Fit wants the best of the best'
You imagine yourself in a scene of The Matrix when you enter the control room of B-Securité in Hoofddorp. Complete with futuristically secured locks, biometric control panels, wall-to-wall sliding walls, bulletproof glass and lots of computer screens.

These measures are there for a reason. B-Securité likes to use the latest state-of-the-art technology to achieve its goals: to guarantee optimal and reliable security. The allocation of the NEN-EN50518 certificate for a secure European monitoring and alarm reception centre (PAC) is only a matter of time.
Control room of the future
B-Securité is co-owned by Basic-Fit. This publicly traded company is well on its way to becoming the largest gym chain in Europe. With more than 700 affiliated gyms, its ambition is to grow to over 1000 locations. "Safety comes first for our shareholders," says Marco van Elk, manager of remote surveillance at Basic-Fit and B-Securité. "They don't want to take any risks: Safety, Security and Comfort must be in balance at all sites. Safety in the clubs must be guaranteed 24/7, which is why we want the best of the best. Scalability was a given for us and gradually we notice that our ambition and scope are changing to a bigger scale."
Building with ambition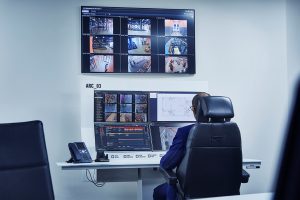 On June 1, 2019, the new high-tech control room went live with Seconts. B-securité has taken a big step forward in making unmanned secure 24/7 sports facilities possible. Until April, Basic-Fit used an external monitoring station. "We noticed that this control room could not keep up with the innovations we had developed in the clubs. Much of this is custom-made and unique in Europe. This resulted in many false alarms, so we decided to start our own control room. We are now able to take care of the integration and management with specialised partners ourselves. All the implemented functionalities are optimally reflected in the Seconts platform, which means that we are now a big step ahead of our competitors", Marco says.
Acting fast in a changing world
According to Marco, the world around us is changing rapidly, with new types of sensors and the desire to integrate ever more systems. This has been carefully considered when choosing Seconts. "The artificial intelligence we use in our clubs can no longer be replaced by people. Our smart cameras detect deviant behaviour on the basis of profiles, based on predictions. This is not only about aggression and noise, but also, for example, when someone get unwell while working out. Based on the intelligence, the system triggers an alarm, after which we immediately have access to the necessary information and real-time images." According to Marco, the new software name 'Seconts' is a good choice in this respect. "This is exactly what the software does: displaying all relevant information and images within a few seconds. This enables our trained operators to take appropriate action quickly."
"The name Seconts fits: you want speed in the control room.
That sounds obvious but is not self-evident."
Use of functionalities
Operators can remotely control a large number of functionalities in the sports clubs from the B-Securité control room. "This starts as soon as you enter, when you speak to them via the intercom. We can send audio clips to speakers in the clubs and use color coding to see which clip is currently being played. When opening and closing doors remotely, we can also see the exact status of the door on the basis of the colour. In this way, we prevent our dispatchers from having to keep pressing buttons. These may seem small things, but for our service and the operators this makes a big difference."
Automatic ease of operation
Other functionalities which are appreciated at B-Securité are the complete integration of dynamic floor plans and cameras. Marco: "A sports club is often divided over several levels, with many small spaces. There are 25 cameras and 12 sensors per club. From the moment of notification in the system, all available information is automatically displayed by our operators, such as floor plans with colored pictograms, sound and real-time video images. We immediately get the right cameras! The operators can also manually link the floor plans to the cameras present at the location. Especially at the entrance of a club there are many functionalities close together, such as the turnstile, intercom, card scanners, cameras, door contacts, ceiling speakers, etc. These are shown and controlled by means of icons on the floor plan, which is handy."
Apple versus Android
Staff were a critical success factor in starting up the new control room. Experienced control room staff have been recruited from outside the control room, with currently a total of about 18 men and women. "The employees come from all kinds of organisations where they have usually worked with a different package for years. With a new package you always have to get used to it and there is taste and preference. One likes Apple and the other prefers Android. The fact that everyone is very excited about the extra functionalities that they have at their disposal was good for acceptance. They like it! For example, that the status is visible by means of a green or red color. These are small extras that can make a big difference to the ease of use," Marco says.
"One has a preference for Apple, the other for Android.
Everyone is excited about the extra functionalities, they like them!"
Fully implemented in 3 months
During the realization of the new control room, there was intensive cooperation with the developers of Seconts and ASB Security. According to Marco to his satisfaction. "The cooperation with all parties is good, we have achieved a lot together in a short period of time and have really achieved something. Of course, you have to make some adjustments here and there and make some refinements. On paper, something you think of may seem good; it's only when you test it in practice that you experience what works and whether it can be done even better. We are very happy with that now. All our people have been trained and have been working with the software and functionalities for some time now." Before the start, a small group of B-Securité employees had a few days of Seconts training at ASB Security in Eindhoven. The other employees were trained and educated by B-Securité itself by means of the train-the-trainer principle.
Technical integrations with external systems
In order to fill in the future vision of B-Securité and to make all functionalities available, a diversity of systems has been linked to Seconts. The most important integrations achieved are:
Avaya switchboard system
Honeywell Galaxy Flex alarm system
Milestone VMS platform
Axis camera integration
Eclipse camera integration
Microsoft Power BI for reporting
The wish list includes a further expansion of the reporting possibilities and the integration of social media (trendwatching) for proactive security management.
'Pay-as-you-go' plans for the future
For Basic-Fit, everything is aimed at ensuring that sportspeople throughout Europe can exercise safely 24/7. The B-Securité control room offers this safety, at the highest level. From the infrastructure realised with Seconts, the control room wants to launch new low-cost services in the near future. All available knowledge and skills will then become available for 'the unmanned online control room'. With this concept, customers can manage all their alarm matters themselves from their mobile phone. Completely according to the pay-as-you-go principle, without the intervention of personal support from the control room.
"We are proud of our service.
You understand that if you see it; that's certainly the case here."
Selection criteria new control room platform
The selection for the control room platform at B-Securité / Basic-Fit was based on 3 criteria:
Price

Safety

Content & Technique

1. Cost and security
The price/value ratio was an important criterion in the selection of the software and the implementation partner. For Basic-Fit, a company that focuses on low-cost services, this is not surprising. The annual management costs of the system are also included. B-Securité director Marco van Elk: "Low costs does not mean that compromises were made for quality and security. With us, this is completely balanced and guaranteed."
2. Flexible possibilities
Marco: "We had bad experiences with a foreign software partner during the adjustments to our Video management system. Sometimes we felt like crying in the wilderness, and we brought that experience with us. During the selection process for the new control room, we focused on the Netherlands in particular, because we want to be able to change gear quickly. The offer is limited and ASB Security with Seconts came out on top. It was easy to discuss our wish list and the integration with them. There is a lot of technical knowledge in house, that makes it easy to talk."
3. Choice for a technically oriented organization
According to B-Securité, ASB Security is more technology-oriented than sales-oriented. "You can see that directly in the contacts. The people have a broad content-related knowledge. They understand our functional wishes, because they can work with the software themselves. This is a strength for a customer who wants a lot of customization, which benefits the speed of integration. As a result, the balance is also good: the innovative value has ultimately gone up further than the price we pay."
"We are happy with a good product and a flexible partner with
a great deal of technical know-how. It's an organization that gets it."