JASPER BRINKMAN OF ALARM CONTROL NETHERLANDS ABOUT EASE OF USE:
'I can, so to speak, pick a postman from the street and let him work with it'
Alarm Control Nederland (ACN) is an experienced user from the very beginning. This control room has been using Seconts for about 15 years. With approximately 30,000 connections for alarm processing, ACN is a major user. Reliability is ACN's top priority, with customers such as Nuon/Vattenfall and Feenstra.


Manager Jasper Brinkman says: « My experience with Seconts is that it is extremely stable and reliable. The downtime issues are minimal, especially in relation to the stories I sometimes hear from others. We trust it completely, as this simply never happens. »
SCORE ON POINTS
ACN has a 24/7 availability and more than 30 employees work with Seconts in shifts. Jasper has no problem at all with naming his assessment criteria for control room software. « Our first priority is reliability. We must always be able to count on the software and Seconts scores high on that. This is followed by speed and ease of use. These are also points with which we are extremely satisfied, as well as with the affordability of the software. »
SPARRING ABOUT REQUIREMENTS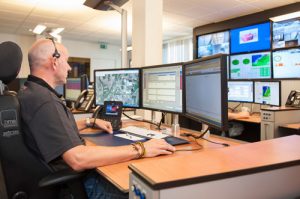 Finally, Jasper mentions the possibility of engaging in a discussion about expansions. « The flexibility of Seconts cannot be compared to that of the large software suppliers where you are just a number. If we have any wishes, we will let them know and start the discussion. Usually this leads to proper solutions and something can be realized. This can lead to new Seconts functionalities. This is also one of the strong points; new functions are regularly made available to further optimize the business processes. »
ENTERING AND SERVING CUSTOMERS
Speed and ease of use are important factors in the daily use of software. « Within Seconts, it is very easy to create and enter customers. The same goes for customer follow-up: I don't think this can be done any faster. In the past, we regularly looked at solutions from other suppliers, but the complexity seemed to be much greater. The Seconts software is easy to use and the system does what it needs to do. I can, so to speak, pick a postman from the street and let him work with it, » says Jasper.
" »HOW WE COMBINE A PERSONAL APPROACH WITH AUTOMATION DEPENDS ON THE SITUATION AND ON THE CUSTOMER."
THE CUSTOMER-FRIENDLY CONTROL ROOM
ACN's starting point is that it wants to be a customer-friendly alarm center where it is easy to contact someone. Jasper says: « This means that there are people here who you can call if you want to. What is customer-friendly depends entirely on the customer. We're looking for the right mix to stay personal while still making use of automation. A good example of this is a battery failure. Our customers like it when we send them a text message about the malfunction. With a simple push of a button they can then -from the message- go straight to a parts site to order a new battery. That's a win for everyone, because in this case our operators don't have to spend any time on it. »
FUTURE DEVELOPMENTS
At this moment ACN uses a lot of Seconts modules. « Actually, we use almost everything except the Video module. That's because before we had very little demand for video. Since we have been selling alarm systems with built-in cameras, this is one thing to look at. Undoubtedly, this functionality will also be available in our alarm center in the future. »