THE ASB CONTROL ROOM FOR HIGH-RISK ALARM TRANSMISSION:
'We solve many problems before the control room receives a report'

The ASB Control Room is all about 'secure connections'. There are special requirements for alarm transmission for medium and high-risk objects. ASB Security offers a range of high quality connection services for fire and alarm notification, which are provided by the control room.

The ASB Control Room may seem like an oddity in control room country. It mainly provides technical monitoring of systems in the security domain. For example, the 'intensive care monitoring' of alarm connections for burglary, fire and healthcare, among other things. This means that the center is in contact with almost all control rooms in the Netherlands. Marco Jansen has been the manager of the control room for two years. Prior to this, he worked for over 17 years for the largest security installer in the Netherlands, for which ASB is a supplier.
CONNECTIONS ARE 'CORE'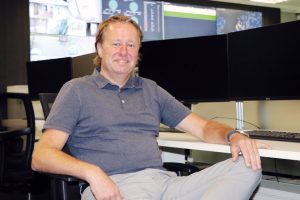 Marco says, "What do we do? Simply put, we monitor the alarm transmission connections of providers, including KPN and Vodafone. Our customers are private individuals, companies, government institutions and large banking companies in the medium- and high-risk segment. These are parties that need particularly secure connections and have signed an additional contract for this. The high requirements they have to meet depend on their situation and on what insurance companies and/or the legislator require them to do. In order to guarantee availability and to prevent sabotage actions, these alarm transmission connections are always carried out redundantly using at least two separate methods. The 24/7 monitoring of these connections is the 'core' of our activities. We use Seconts software to manage these connections. Using Seconts, we continuously monitor whether the equipment at a location is functioning properly, whether the connections are operational and whether the signals/reports are being received by the customer's control room."
"THE CONTROL ROOM IS PROACTIVE,
WE SOLVE PROBLEMS BEFORE THEY BECOME EFFECTIVE."
WHY AN ALARM TRANSMISSION PROVIDER?
It's not surprising to use extra secure lines for particularly valuable items. Another reason is when people's safety is at stake. "Think of fire safety in a hotel or nursery, where people are sleeping. A jeweler, optician or bicycle shop, where criminals can make a lot of money in just a few seconds. A financial institution (bank object), wit a lot of cash. Or in situations where there is a risk of robbery, where the prevention of theft and civilian casualties has the highest priority" Marco says. The standard services that ASB Security provides to end customers for this purpose are: DigiAlarm (AoIP) for alarms, CertiFireOne specifically for fires and OMS services (Public Control Room System) for connecting fire alarm systems to the regional fire brigade (Safety Region). There are complete transmission solutions for banks for ATM rooms, lobby machines and office buildings. This includes the technical monitoring of camera systems.
'YOUR BATTERY NEEDS TO BE REPLACED'
With Seconts' help, the ASB Control Room continuously monitors all connections, including the transmitting and receiving equipment. This means that the alarm transmission can always done in the event of an alarm. The control room does this proactively and remotely. Marco: "If something happens, we can read out the connected transmission equipment remotely using special software. For example, we may call a customer to say that a battery needs to be replaced before a light in the display lights up." In the event of a connection problem, the transmission path is always secured by means of a back-up connection from another telecom provider. The problem report from Seconts is the signal to take action for the control room. "In the connected transmission equipment, we can perform solution-oriented functions. If we are unable to solve a problem ourselves, the telecom provider in question is immediately scaled up to restore the connection. In the event of large-scale problems on the part of a provider, the ASB Control Room acts as an intermediary between the provider, control rooms and the subscribers."
"WE MONITOR ALARM TRANSMISSION CONNECTIONS AND THE CONNECTED EQUIPMENT,
ALLOWING AN ALARM MESSAGE TO BE ALWAYS RECEIVED BY THE CONTROL ROOM.
DELIVERY ACCORDING TO AGREEMENT AND PROACTIVE THINKING
With extensive experience in contract management and service delivery, Marco knows how important reliable delivery is. "Our Management Centre, like many control rooms in the Netherlands, is a certified control room (ARC/PAC) in accordance with the European regulations EN50518. In addition, we are one of the few certified alarm transmission providers that complies with the European regulations EN50136. We know better than anyone what it takes to meet these certification criteria. That's why we understand how control rooms work and the importance of recording. Our customers receive periodic quality reports on their connections. These reports describe, among other things, the availability and transmission speeds at which we demonstrate that we comply with these European regulations. The customer can use these reports for the benefit of demanding parties, such as the government and insurance companies."
According to Marco, accountability for the services provided is part of his role as Service Delivery Manager. "I get a lot of energy from the contacts and communication with our customers and employees. In my service delivery role, I see if we can implement improvements to enhance the overall quality and relieve our customers of their worries.